Seeking higher efficiency and safer, more reliable performance in a single system, former plumber-turned-factory sales manager couples condensing combination boiler with air handler to provide both space heat and domestic hot water without sacrificing comfort.
BY GAIL JOHNSON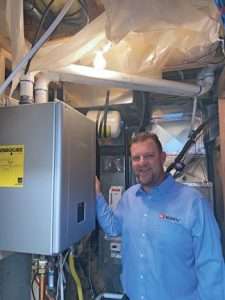 HERRIMAN, UTAH — I should start this article about my recent home-improvement project with several disclosures: I'm not your average homeowner. In fact, I've worked in the plumbing industry in Salt Lake City, my hometown, for more than 22 years:
I trained and worked with the tools as a plumber for five years.
I then worked in plumbing wholesale distribution for a little over a decade.
…